Why You Should Vacuum Your Home at Least Once a Week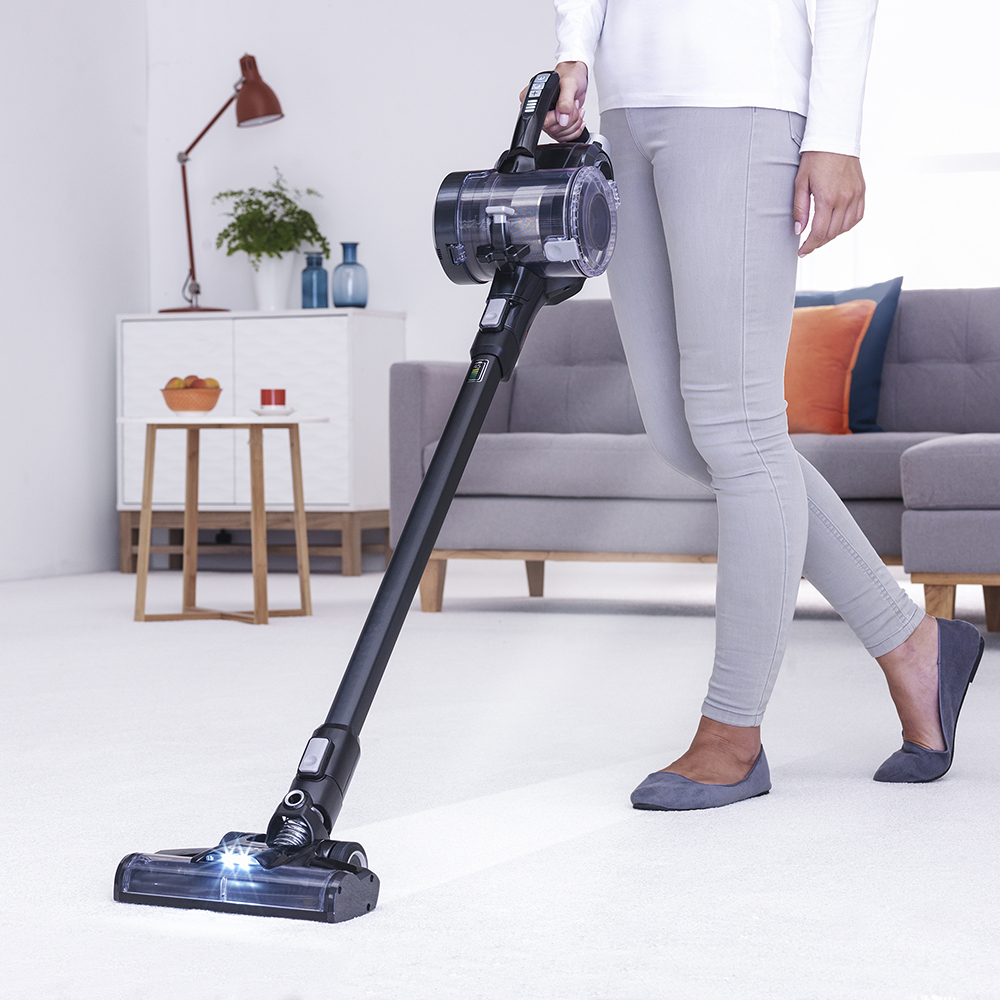 It's that time of year again, spring cleaning season is just around the corner. Time to dust off the shelves, clean out the cupboards and give every part of your home some TLC. Just make sure you don't forget your carpets. Believe it or not, your carpet probably contains 200,000 bacteria per square inch, 4,000 times more bacteria than your toilet seat1!
Whether your home is a large and sociable household, or a quiet and cosy place just for you, it needs regular cleaning to keep it healthy and comfortable. We recommend that you vacuum and deep clean your carpets with a carpet cleaner such as the Vax Platinum Power Max regularly. Need convincing? Here are 8 reasons to make vacuuming a part of your weekly cleaning routine.
New carpet is no excuse
You might think that getting a new carpet gives you chance to put your feet up, but even when your carpets are brand new it is still important to vacuum them weekly.
New carpets are a source of VOCs (Volatile Organic Compounds) that enter the air in your home and the effects of exposure can range from headaches in the short term and potentially a higher risk of cancer, long term.2
Banish bugs
Dust mites, moths, fleas and spiders love dusty areas – these are the places where they are rarely disturbed. Regularly vacuuming with special attention paid to all the out-of-the-way spots such as under furniture and deep into the corners will help these unwanted visitors from setting up a permanent home inside of your own. For a deep clean of your carpets, the Vax Platinum Power Max Carpet Cleaner can remove 93% of bacteria and using the Vax Platinum Cleaning Solution with Carpetguard protection will leave your carpets fresher for longer.
Pets problems
If you have a pet already, you will know that loving them means loving their mess and longhaired pets leave even more of it to love. Such homes might require even more frequent vacuuming. When deciding how often to vacuum in a home with pets, consider the appearance of your carpets as the debris sits on the top. The lithium-ion battery in the Blade 2 Max Cordless Vacuum Cleaner provides a 45-minute runtime†† and no loss of suction∆; providing continuous cleaning performance. Plenty of time to give your carpets a thorough clean without recharging.
Allergy management
At least 12 million Britons suffer from allergic reactions caused by dust mites and other triggers around the home.3 Dust, dust mites and pet dander found in carpets can cause irritation to sufferers through allergic symptoms.
It is possible to reduce allergens in carpets by vacuuming regularly.
Prevent dust build up
Have you ever wondered why the sky at sunset is sometimes dramatic and vivid in red but at other times dreamily soft in pink and yellow? It's because dust in the lower atmosphere subdues the natural vibrancy of colours in the sky during sunset.4 If it does that to the sky, imagine what it does to your carpets… Research suggests the amount of dust we vacuum in our homes each week weighs nearly as much as 3,484 elephants!5
Reduce fungus and bacteria growth
While, no one minds a mushroom in the fridge, when it's growing in the middle of the living room carpet, it's a different matter. Vacuum regularly as this will help remove dust, bacteria and mould spores in the carpet fibres.
Take pride in the home
If you enjoy having guests in your home and take pride in its appearance, you will want to vacuum regularly. Increased footfall from visitors will bring more dust and dirt into the home. High-traffic areas such as walkways and around doors need extra attention to keep them clean and presentable.
Should you vacuum every day?
With the cordless Vax Blade 2 Max you can vacuum anywhere and with additional tools, clean up high, down low and behind those hard to reach places etc making cleaning every day easier and that deeper clean even quicker.
Tip: Vacuum Cleaners and Carpet Cleaners need to be maintained and cleaned regularly to keep them working their best. Read our Vax Platinum and Blade 2 Max maintenance blogs for helpful step by step instructions.
*References:
1 Eliminate Germs in Your House – https://www.menshealth.com/health/a19537904/eliminate-germs-your-house/
2Carpeting Presents Complex Health
Issues, Mercola, Web: https://articles.mercola.com/sites/articles/archive/2014/10/01/carpet-installation.aspx
3Millions 'allergic to their own home', says charity, NHS,
https://www.nhs.uk/news/lifestyle-and-exercise/millions-allergic-to-their-own-home-says-charity/
4The Colors of Sunset and Twilight, Corfidi, Web: https://www.spc.noaa.gov/publications/corfidi/sunset/
5Tons of Dust in Our Homes, The Express,
Web: https://www.express.co.uk/news/uk/253432/Tons-of-dust-in-our-homes
∆Tested according to IEC 62885-2:2016 clauses 5.7 and 5.9.
†† Tested in standard power mode on hard floor, with floor brush switched off