How to eliminate muddy messes in your home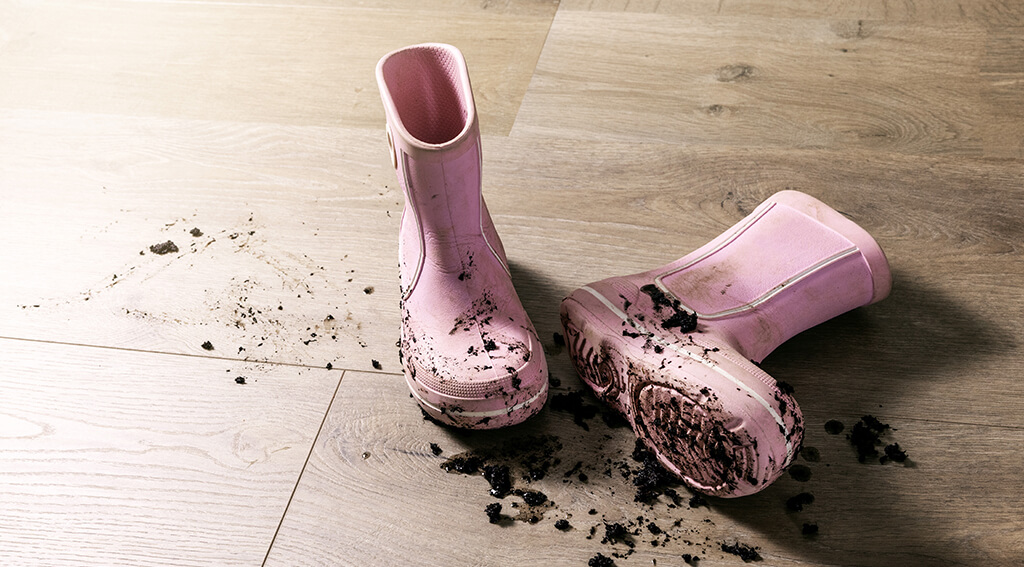 With the easing of lockdown and the nicer weather making an appearance, many of us have had the opportunity to socialise outdoors. Whether it's a nice walk with family, a picnic in the park with friends or simply visiting loved ones in the comfort of their gardens.
If you have managed to get outdoors then you will know your home tends to pick up the aftermath of your outdoor activities, anything from debris and muddy footprints can be brought back into your home. But don't worry, we have put together a helpful guide to help you eliminate the mess.
Vacuum Cleaning
The great outdoors always finds a way to make an appearance inside your home. This can be in the form of dirt, grit or debris which is carried in on shoes, clothes, bags or picnic blankets.
The Vax ONEPWR Blade 4 Pet Dual Battery Cordless Vacuum Cleaner can help you pick up the mess. It has a specially designed floorhead that allows you to move with ease from carpet to hard floor to pick up all the unwanted debris. Plus, it has an antimicrobial treatment on the brush bar which helps protect your bristles from bacteria and fungi by preventing their growth. And if you have debris in hard to reach areas don't panic as it can easily be converted into a handheld and it comes with an on board crevice tool.
Carpet Cleaning
Mud stains throughout your home are inevitable this time of the year. And with many families enjoying the outdoors a lot of people are faced with mud stains on their carpets. There are many culprits for bringing mud into your home, your little ones can be drawn to muddy puddles on your walks as are our furry four-legged friends. After a walk they can leave a trail of muddy foot and pawprints on your carpets.
But with the Vax Platinum SmartWash Carpet Cleaner you don't need to worry about mud stains on your carpet. Its Advance FLEXFORCE Brushbars distribute the correct energy deep into your carpet fibres to effectively agitate and lift stubborn dirt and stains from your carpet. Along with this you can have peace of mind as it removes over 99% of bacteria*. The Platinum SmartWash is also equipped with motion sense technology, it automatically washes and dispenses clean water and Vax Antibacterial solution when you push forward and dries when you pull back – meaning it's effortlessly easy to use.
Hard Floor Cleaning
To help you eliminate the muddy footprints on your hard floors why not try using the Vax ONEPWR Glide Hard Floor Cleaner. It takes the effort out of cleaning hard floors because it vacuums, washes and dries your hard floors at the same time. Your shoes can also spread a lot of germs around your home but no need to worry as when using the Glide with Vax ONEPWR solution, it kills 99.9% of bacteria**. Plus, the Glide is equipped with extra cleaning power, simply switch to high mode to tackle those tougher jobs like muddy shoe prints.
Upholstery Cleaning
Fabric sofas and chairs tend to pick up stains due to the continuous everyday use. But at this time of the year mud can be brought in after walks, going in the garden, picnic in the park or you may even notice tiny trails of pawprints coming from the cat flap over to the sofa or chairs.
But don't panic, for small stains on your upholstery the Vax ONEPWR SpotlessGo Cordless Spot Washer will help you deal with unexpected stains quickly and easily. It has an Active Jet Spray which helps you target the water and antibacterial solution on any unwanted stains. Together with the ONEPWR Multi-Floor Solution, the Vax SpotlessGo will not only help to tackle stains, but also remove over 99% of bacteria.
*When used with Vax Platinum Antibacterial solution, use biocides safely, always read the label & product information before use.
** When used with ONEPWR Multi-Floor Solution.