How to clean your car interior at home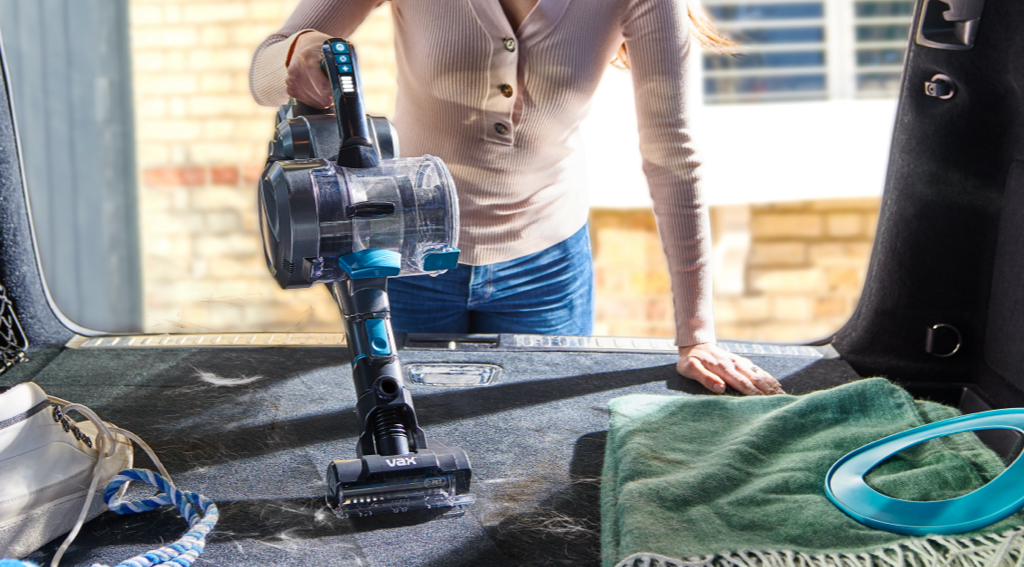 You may be able to see the remains of winter in the interior of your car, from muddy floor mats, dirty seats, debris and rubbish can build up inside of your car.
But with Spring well underway the nicer weather is upon on us, and with most of us having completed our spring cleaning in the home, now is the perfect time to roll up our sleeves and clean our cars.
To help you through cleaning your car we have put together some handy tips to make cleaning quicker and easier.
Clear out the clutter
A lot of stuff can accumulate in your car over the winter months, ice scrapers, de-icer bottles, old blankets, food wrappers, empty bottles, the list goes on. The first thing to do is to bin any rubbish from the foot wells, underneath seats, door and seat pockets and in the boot.
Then remove any items that you won't be needing now the nicer weather is here, take out your ice scraper, de-icer and your old blanket that's been in the boot all winter. This will make cleaning your car interior a lot easier.
Wipe down
The inside of your car tends to see a lot of dust and dirt and over time this can lead to a build-up of germs. To keep the germs at bay, give your car interior a dust down with a rag, then a wipe down with some antibacterial car cleaning wipes. Focus on areas such as the dashboard, steering wheel, center console, gearstick and inside door pockets.
Rubber car mats
Next, remove your car mats and give them a good shake outside. For rubber mats you can use a hose, pressure washer or a good old-fashioned bucket of soapy water and sponge to give them a clean. Then leave them outside to dry while you clean the rest of your car.
Fabric car mats
If you have fabric car mats remove them from the car and try using the Vax ONEPWR Blade 4 Pet Dual Battery Vacuum Cleaner to remove any dust or dirt that has gathered on the mat. A Vax ONEPWR Blade can easily be turned into a handheld which is ideal for cleaning your fabric car mats.
Next, if your mats are covered in food or mud stains why not try using the Vax ONEPWR Cordless Spot Washer. It will get to work on stains quickly and easily while killing over 99% of bacteria*. The Vax SpotlessGo is cordless and lightweight, meaning you can make light work of tackling unexpected spills and messes throughout your car interior.
Vacuum from top to bottom
To fight of the dust and dirt your car collects you can give your car a good vacuum. Start off by vacuuming the ceiling, then work your way down to the seats, door and seat pockets and then the floor.
To assist you we recommend the Vax ONEPWR Blade 4 Pet Dual Battery Cordless Vacuum Cleaner. It can easily be turned into a handheld which is ideal for cleaning the car, and its onboard crevice tool will help you to clean the cervices in the seats and seat and door pockets. Plus, if you have pets, the mini motorised pet tool will make light work of cleaning car boots and car upholstery as it agitates and lifts stubborn dirt and pet hair with ease. No need to rush vacuuming as it has 90 minutes runtime†† allowing you to clean for longer, without recharging.
Leather seats
If you have leather seats why not try using leather car wipes, this will help you get rid of everyday mess that your leather seats pick up. Just wipe the seats and then use a soft microfibre cloth to dry them.
Fabric seats
It can be a tough job removing muddy footprints and food stains from your fabric seats in your car. But with the help of the Vax ONEPWR SpotlessGo Cordless Spot Washer you can get rid of stains quickly and easily. The SpotlessGo gets to work fast on car interior and the Active Jet Spray helps you target the water and antibacterial solution on any unwanted stains your car has picked up throughout the winter. Plus, combined with Vax ONEPWR multi-floor solution, kills over 99% of bacteria at the same time.
* When used with ONEPWR Multi-Floor Solution.
††Tested in standard power mode on hard floor, with floor brush switched off.