Vax Summer cleaning tips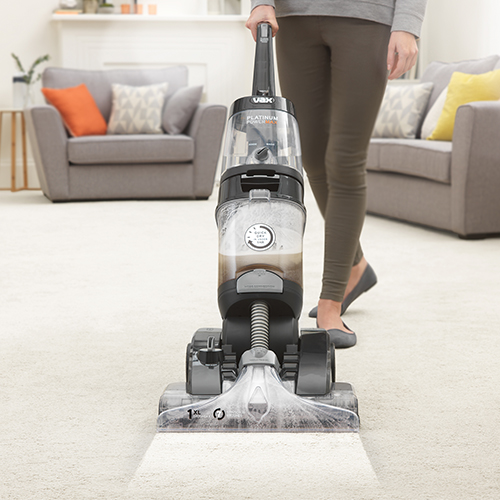 The nights are lighter, the days are getting warmer and soon everyone will be in the mood to enjoy the summer sun out in the garden. But that is no reason to neglect your indoor cleaning routine. In fact, when the weather is warmer, harmful bacteria thrive and continue to replicate1, making cleaning just as important as any time of the year. Save precious time cleaning this summer with our helpful cleaning tips.
Go Cordless
For a speedy clean without compromising on performance, why not go cordless with the Vax Blade 2 Max Cordless Vacuum Cleaner. Proven to clean carpets better than the UK's top 10 bestselling cordless vacuums* and with a runtime of up to 45 minutes††, you can clean your whole home on just one single charge. Buy direct from Vax to get a Free toolkit worth over £50 with a flexible crevice tool, tough dirt tool, dusting brush, textile tool and stretch hose to make cleaning your home even easier.
Indoor carpets are a hotbed of bacteria, pollen, dust and dirt2 and with all the time we are going to spend outdoors over the summer, you may be bringing in more debris than usual. Your carpet is a great place to start your summer cleaning routine.
The lightweight design of the entire Vax Cordless Vacuum cleaners range can optimise your cleaning routine with supreme pick up performance, cordless convenience and new innovative ease of use features.
Clean with Steam
Steam cleaning is a fast and easy way to hygienically clean a huge range of surfaces around your home, all with one machine. A multi functional steam cleaner can be used to clean floors, door handles, upholstery, and you can even use a window attachment for your windows and glass. This means you don't have to switch between different cloths, sprays, liquids and brushes.
The Vax Steam Fresh Power Plus has a versatile set of attachments, allowing you to clean more than just the floor.
Improving air quality
During the spring and summer months, hay fever and allergy symptoms can be more severe. If you or someone in your home is an allergy sufferer using an Air Purifier, such as the VAX Pure Air 300 can remove up to 99% of airborne pollutants, allergens and bacteria, including pollen to reduce the effect of allergies and asthma.
If you purchase the VAX Pure Air 300 direct from VAX, you will also receive an additional filter worth £49.99 for FREE.
Carpet Cleaning
The average indoor carpet is 4,000 times dirtier than a toilet seat, harbouring 200,000 bacteria per square inch2. Using a Carpet Cleaner, such as the Vax Platinum Power Max together with Vax Platinum solution, you can clean deep down and remove up to 93% of bacteria, leaving carpets looking clean and smelling fresh. For more stubborn stains, use the pre-treatment wand to spray a jet of cleaning solution directly onto the stain before cleaning, perfect for refreshing your carpet for summer.
Neutralise odours
If you're going to put effort into cleaning, you want people to know you've cleaned. Scented candles aren't the safest option and aerosol sprays can be harmful to the environment.
Whether you are using a carpet cleaner or steam cleaner, all Vax solutions and detergents neutralise bad odours and some, such as the Vax Ultra+ Carpet Cleaning Solution have a fresh floral or citrus scent.
1https://researchfeatures.com/2017/07/17/summer-health-bacteria/
*Top 20 market data, Jan-Dec 2018 (sales volume) tested on carpet according to IEC 62885-2:2016 clause 5.3 in boost mode.
2https://www.huffingtonpost.co.uk/entry/carpet-cleaning_n_570fb9d0e4b03d8b7b9fa45e?guccounter=1&guce_referrer=aHR0cHM6Ly93d3cuZ29vZ2xlLmNvbS8&guce_referrer_sig=AQAAAEFvTXSjGri0E0A39-G2kTBaI0RrX7Ys2UDpM2ZMlkhs5hE_blLCn4mhS4jyhmK6jxdeK3MjXhka4vNEChgdFqv861fT8DiFLIQYeQQaomfNhWkfp-HhBSiBShBgel0pXVmGEd6zx09-qNRyw14T6ocI0oUu0kUjumm2joedTiCr
†† Tested in standard power mode on hard floor, with floor brush switched off.