Power up your home cleaning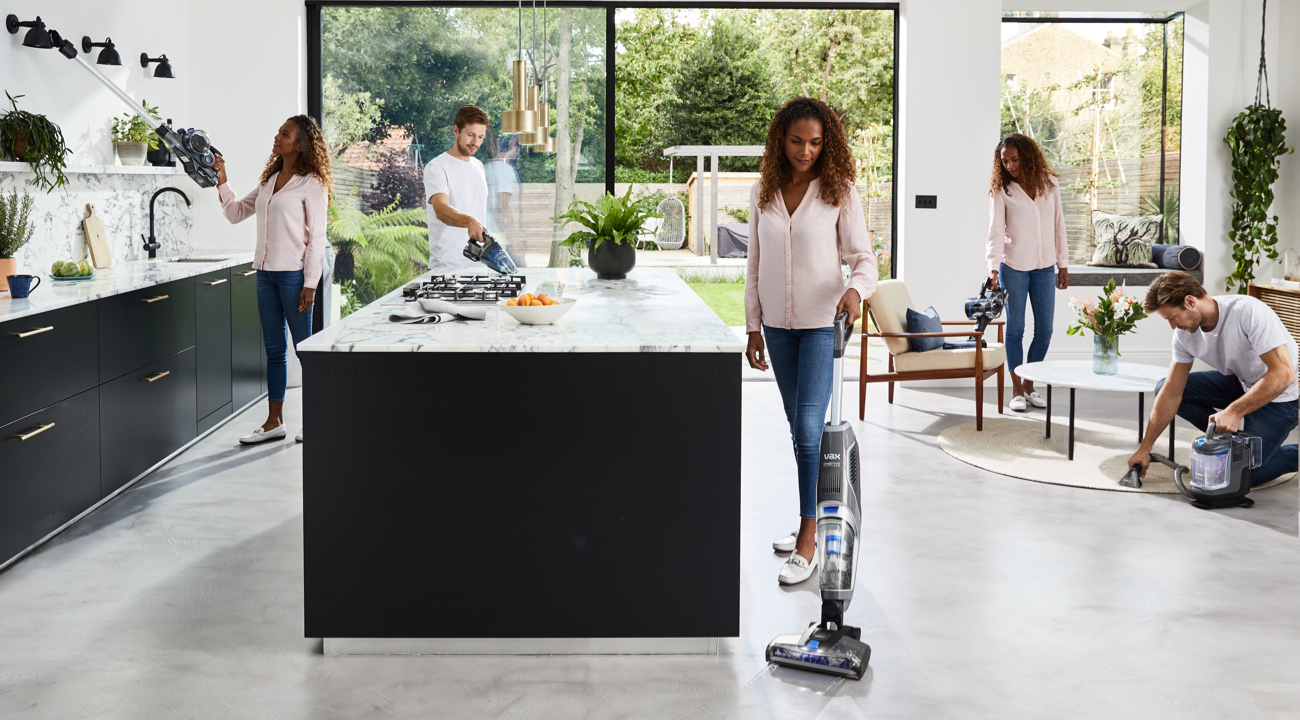 We all love a clean and tidy home, but cleaning can take up a lot of your time. Each home is different and there are a range of factors that impact your cleaning times. These include the size of your home, the number of rooms and the number of people and pets living in your home. When cleaning the last thing you need is for your machine to run out of power.
With the Vax ONEPWR System every Vax ONEPWR battery fits every product in the ONEPWR family. When one battery dies you can simply switch it out for another one, so no more waiting around for batteries to charge. We have a range of products which are supported by Vax ONEPWR batteries to help you power through your home cleaning!
Regular Clean
Keeping a house clean can be very time consuming. Add in a family, a full-time job and daily errands into the mix and you suddenly find yourself with less time to clean the house. If you find yourself in this position it might be a good idea to clean a little each day to keep on top
of things.
For regular cleaning, the Vax ONEPWR Blade 3 Cordless Vacuum Cleaner gets the job done. It is powered by the ONEPWR 3.0Ah battery, our new interchangeable battery technology which gives you 40 minutes runtime which is ideal for a quick whiz around the house. The specially designed floorhead on the Vax ONEPWR Blade 3 complements the powerful motor, ensuring optimal pick up on all floor surfaces, which is perfect for going room to room.
For extra runtime why not look at the Vax ONEPWR Blade 4 Cordless Vacuum Cleaner. It is proven to clean carpets better than the UK's top 3 best-selling cordless vacuums*. That's the cleaning performance of the best-selling corded uprights** in the freedom of a cordless vacuum.
If your house is a busy home with pets, then the Vax ONEPWR Blade 4 Pet Cordless Vacuum Cleaner may be just right for you. It is powered by the ONEPWR 4.0Ah battery generating up to 45 minutes runtime, giving you plenty of time to clean without recharging. Make light work of cleaning pet beds, car boots and upholstery with the additional Vax Mini Motorised Pet Tool – designed to be compact but tough, it agitates and lifts stubborn dirt and pet hair with ease. It also has an antimicrobial treatment on the brush bar which helps protect your bristles from bacteria and fungi by preventing their growth.
Longer Clean
If you are looking at doing a longer clean around your home then check out the Vax ONEPWR Blade 4 Pet Dual Vacuum Cleaner. It is powered by the ONEPWR 4.0Ah battery, our new interchangeable battery technology. With 2 batteries and our best ever Vax CoreTM controlled brushless motor, get continuous cleaning performance for up to 90 minutes. It also has an additional motorised tool and antimicrobial protection for tough cleaning.
Deep Clean
Keeping your home clean is very important, not to just to minimise dirt, but also to kill bacteria and germs. So, every now and then a deep clean is in order. The Vax ONEPWR Glide Hard Floor Cleaner takes the effort out of cleaning hard floors because it vacuums, washes and dries at the same time. The powerful 4.0Ah ONEPWR battery provides up to 30 minutes runtime on a single charge – enough to clean your hard floors without recharging.*** Also, using the Glide with Vax ONEPWR solution kills 99.9% of bacteria****.
Quick stain removal
With the new Vax ONEPWR SpotlessGo Spot Washer you will always be ready to deal with unexpected spills and stains quickly and easily. SpotlessGo gets to work fast on your carpets, hard floors, upholstery, or car interior, plus, combined with Vax ONEPWR multi-floor solution, kills over 99% of bacteria at the same time. The Vax SpotlessGo comes with a 2.0Ah battery giving you 15 minutes of runtime. Great for accidental spills around the home that need to be cleaned quickly.
Combination Clean
Have you got carpets and hard floors to clean? Then why not use one of our Vax ONEPWR Blade 4 Cordless Vacuum Cleaners for vacuuming your carpets. Then, switch your ONEPWR battery over to the Vax ONEPWR Glide Hard Floor Cleaner to vacuum, wash and dry your hard floors.
* UK market data, Jan 2019 – Dec 2019 (by sales volume), when tested on carpet according to IEC 62885-2:2016 clause 5.3. Tested in Boost Mode. For further information email claimsinfo@vax.co.uk.
**UK market data, Jan 2019 – Dec 2019 (by sales volume), when tested on carpet and hard floor according to IEC 62885-2:2016 clauses 5.2 and 5.3. Tested in Boost Mode. For further information email claimsinfo@vax.co.uk
*** in standard mode on hard floor, based on typical UK home size, ONS EHS 2017-18
**** when used with ONEPWR Multi-Floor Solution